Maintaining healthy teeth and gums is an important part of living a healthy life for years to come. The condition of your smile isn't the only factor that matters, though. The way your smile looks can have just as much of an impact on your overall quality of life. After all, a beautiful smile can help boost your self-esteem and present yourself confidently to others. If you want a more radiant, attractive smile, 4th Street Dental Studio can help. Here's what you need to know about how cosmetic dentistry can change your life before scheduling your consultation.
What is Cosmetic Dentistry?
Cosmetic dentistry includes any dental treatment or procedure performed to improve the appearance of your teeth or gums. Whether your teeth are discolored, damaged, misshapen, or missing, there is a cosmetic dental treatment that can help enhance the way your teeth look. While cosmetic dental procedures of the past may have been expensive, time-consuming, or invasive, many modern cosmetic dental procedures are convenient, quick, and cost-effective, making it easier than ever to gain the smile you've always wanted.
The Impact of a Beautiful Smile
The appearance of your teeth matters. A beautiful smile makes it easier to hold your head up high and share a confident smile with others in your personal and professional life. When your teeth are white, properly aligned, and damage-free, you'll look like the very best version of yourself. If you weren't born with the ideal smile, don't fret. You won't believe how simple enhancing the appearance of an imperfect smile can be with a cosmetic dental treatment or two.
Maintaining and Enhancing Your New Smile
After you improve the appearance of your teeth with a modern cosmetic dental procedure, properly caring for your new smile is the best way to ensure that your teeth stay healthy and beautiful for as long as possible. The good news is that maintaining your new smile is as easy as following these steps:
Practice good oral hygiene habits every day, including brushing and flossing

Visit the dentist every six months for routine dental exams and professional cleanings

Make healthy lifestyle choices, including not smoking, drinking plenty of water, and not biting down on items that could damage your teeth, such as ice.
What Cosmetic Dentistry Options Are Available at 4th Street Dental Studio?
At 4th Street Dental Studio, we know that no two smiles are exactly alike. That's why we're happy to provide a large selection of modern cosmetic dental options to meet the particular needs of your mouth. Some services we offer include:
Teeth Whitening

: to enhance the color of discolored teeth by lifting stains

Porcelain Veneers:

to improve the color, shape, and/or size of damaged teeth

Clear Aligners:

to correct crooked, gapped, misaligned, or overcrowded teeth conveniently and discreetly
Schedule Your Cosmetic Dental Consultation at 4th Street Dental Studio
Most people aren't born with teeth that are perfectly straight, even, and white. If you'd love to brighten the appearance of discolored teeth, replace a missing tooth, straighten crooked teeth, or restore a damaged tooth, you're not alone. 4th St Dental Studio can help you gain a beautiful smile, boost your self-confidence, and change your life for the better with cosmetic dentistry. In as little as one convenient dental appointment, you can take the first step in elevating your look and feel. Contact us today to schedule your initial cosmetic dental consultation and see how easy enhancing your smile can be!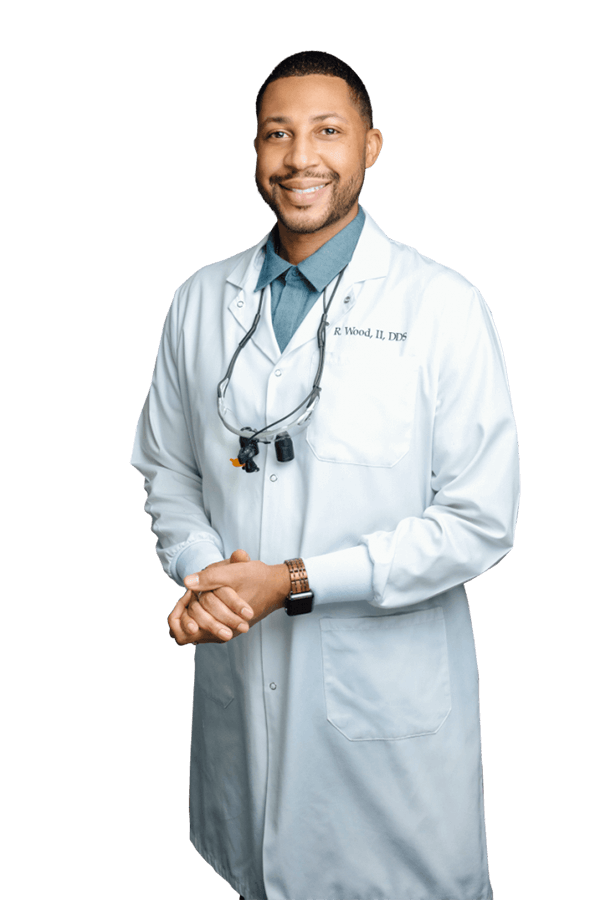 Robert D. Wood II, DDS
Third-generation dentist and Nashville native Dr. Robert D. Wood II leverages his professional experience to deliver superior dental care at his Columbus-based practice, 4th Street Dental Studio. An advocate for preventative medicine, Dr. Wood combines his patient-centric approach with his talent for transforming dental visits from daunting experiences into positive ones. Beyond his practice, he enjoys exploring Columbus, engaging in outdoor activities, and is an active member of several dental associations and the Kappa Alpha Psi Fraternity, Inc.