Cosmetic Dental Services
at 4th St Dental Studio
Compassion · Care · Comfort
Prioritizing oral health & restoring your beautiful smile
Cosmetic Dentist in Columbus OH!
A smile is the total center of expression. A beautiful smile makes a great first impression and can have a significant impact on your health, self-esteem, and both personal and professional relationships. Sadly, our ability to smile may be affected by broken, chipped, missing, misaligned, or discolored teeth.
If you want to reclaim the smile you once had or get a new and better one altogether, visit 4th Street Dental Studio We offer cosmetic dental services in Columbus and other adjacent areas. If you are looking for a nearby cosmetic dentist, rest assured we are the perfect match.
Unmatched Cosmetic Dentistry
Traditional dentistry focuses on improving oral hygiene and preventing, diagnosing, and treating oral conditions. But what does one do if you want to get a beautiful, sparkling, and attractive smile? This is where Dr. Wood, DDS, comes in.
Cosmetic dentistry is centered around correcting the appearance of your teeth. It delivers the smile you have always desired and boosts your confidence. The team at 4th St Dental Studio, brings brilliance beauty to your smile by taking care of any oral aesthetic problem. We straighten misaligned teeth, restore chipped or cracked teeth, and perform professional teeth whitening for stained teeth.
Why Come To 4th St Dental Studio?
At 4th St Dental Studio, recreating smiles is not just a job. Here, we consider cosmetic dentistry as an art and science of designing wonderful smiles. That's why we have invested in cutting-edge equipment, technologies, and materials. Our cosmetic dentist has also undergone extensive training to ensure we deliver unmatched services. Thanks to the technologies we use, your new smile will last for ages.
Since we know that the condition of your teeth, gums, supporting bone structure, and occlusion( bite) plays a key role in the longevity of any dental procedure, we always perform a special examination and inspection of your current dental work before going ahead with any procedure. This ensures that our smile makeover procedure is safe and comfortable for you.
Some of the cosmetic dental procedures we perform:
Cosmetic and Porcelain Veneers – 4th St Dental Studio offers professional dental veneers in Columbus . Veneers are thin porcelain shells that are fit over the facial surface of the teeth. They can be used to correct an array of issues from discolored, crooked, chipped, fractured, gapped, to small teeth. To fit them on the tooth, the dentist gently files down a thin layer of the enamel of your tooth, takes an impression, and creates a custom veneer that matches your teeth.
Teeth Whitening – When your teeth have stains that won't go away, even with good brushing and flossing, visit our smile makeover dentist in Columbus . Whether they are stained by coffee, tea, black currants, red wine, or smoke, we can make them sparkle once again. Here, we use carefully tested, safe, and approved bleaching solutions to make your teeth uniformly white. Unlike over-the-counter solutions that have mixed results, our methods guarantee you a bright, white, and hearty smile.
Tooth-Colored Fillings – if your teeth have been damaged by cavities, we can treat them using tooth-colored material. Now, you don't have to worry about your teeth being filled with metallic material, which contrasts with the natural color of your teeth. Apart from giving you a natural look, our fillings also make your teeth stronger and are durable.
Dental Bonding – Teeth that are badly chipped, broke, or discolored can be restored using a dental bonding procedure. Here, a tooth-colored resin material is molded to the desired shape and applied to the surface of the tooth to correct its appearance. The final outcome is a restoration that blends invisibly with the surrounding dental structure. With our chipped tooth repair expertise, you will never have to hide a smile.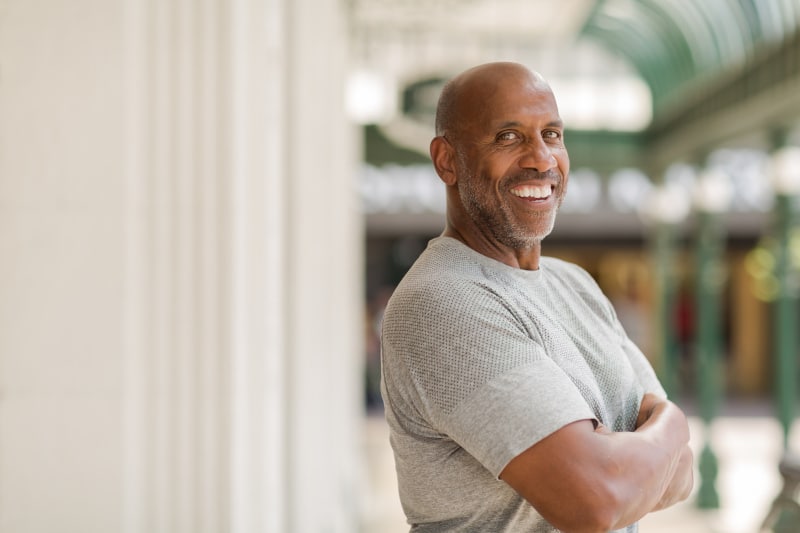 Get the Smile You Always Wanted!
Providing the Best in Cosmetic Dentistry in Columbus
With 4th St Dental Studio's unparalleled cosmetic dental services, you are assured of a happy and confident smile, enhanced better self-esteem, healthier teeth and gums, and enhanced visual appearance. Here, we listen to your needs, take our time to understand what you want, examine your teeth, and then give you the best choices. Although insurance doesn't cover all cosmetic dentistry procedures, it may cover some like tooth-colored fillings, which add glamor to your smile. Whether you are looking for dental veneers or teeth bleaching nearby, we got you covered. Contact us today!
Schedule a Dentist Appointment