Dentistry offers many different services. You can get your teeth cleaned, pulled, fix a cavity, or whiten your teeth. You can get a root canal done to save a natural tooth, or you can get a dental implant to replace a missing tooth. Two of the most common types of dentistry are traditional and cosmetic dentistry. Please keep reading to learn more about each and what is offered at 4th Street Dental Studio in Columbus, Ohio.
What is Cosmetic Dentistry?
Cosmetic dentistry includes all the dental services that improve the appearance of your teeth. It can be a simple procedure, such as professional teeth whitening, or a combination of several procedures designed to give you a complete smile makeover. For instance, someone could get dental veneers to hide tooth imperfections and have their gums contoured to minimize a gummy smile. Because cosmetic procedures are done for aesthetic purposes and not to fix or restore teeth, these services are usually not covered by dental insurance.
What is Traditional Dentistry?
Traditional dentistry includes all the dental services that keep your teeth and gums healthy and clean. This includes preventative services, such as routine dental cleanings and exams. It also includes restorative services, such as cavity fillings and dental crowns. Tooth replacement services, including dentures, bridges, tooth extractions, and dental implants, are also part of traditional dentistry.
Everyone needs traditional dentistry during their lifetime, including children. You use traditional dental services when you go to your regular dental checkups, and you use them when you have a dental problem, suffer from a sore tooth, need a root canal, get a tooth pulled, or have gum disease.
What are the Differences between Cosmetic and Traditional Dentistry?
You will choose cosmetic dentistry if you want to improve the way your smile looks. Cosmetic dental services are great for brightening up your teeth and creating more consistency in the color and shape of your teeth. 
You will choose traditional dentistry if you want to have a dentist check the condition of your teeth, gums, and oral health. You will also choose traditional dental services if you have a dental problem, such as a sore tooth or a cracked tooth. Traditional dental services help keep your teeth and gums in good health so you can chew properly.
Dentists who perform traditional dental services know how to do most of the procedures you will need throughout your lifetime. They may even offer some cosmetic dentistry services. A dentist who specializes in cosmetic dentistry only does the procedures that improve the way your teeth and smile look. 
What Cosmetic Services Makes 4th Street Dental Offer?
4th Street Dental is proud to offer three cosmetic treatments to help improve the appearance of your smile. 
Teeth Whitening:

Choose between prefabricated disposable whitening trays, custom at-home whitening trays, and in-office teeth whitening procedures. All three methods work well to whiten your teeth, although the in-office procedure will get it done in a lot less time.

Porcelain Veneers:

Veneers are thin, wafer-like shells that are permanently bonded to the front of teeth to change the shape or color of a tooth. They are durable and designed to create a pleasing, consistent look.

Clear Aligners:

Clear aligners are plastic trays that gently move your teeth into a straighter position over time. Unlike traditional braces, clear aligners are removable and virtually invisible, so no one even knows you are getting your teeth straightened.
Do You Need Something Done to Your Teeth?
Whether you want to give your smile a makeover or you need to get a dental problem fixed, 4th Street Dental Studio is the place to go. We offer a warm, friendly environment at our Columbus, Ohio, dental office. We want everyone to have the chance for a beautiful smile through cosmetic dentistry treatments. Our staff is professional and knowledgeable about all the various services we offer, including common cosmetic dental procedures. Contact us today to schedule one of our routine cleanings and improve the health of your teeth.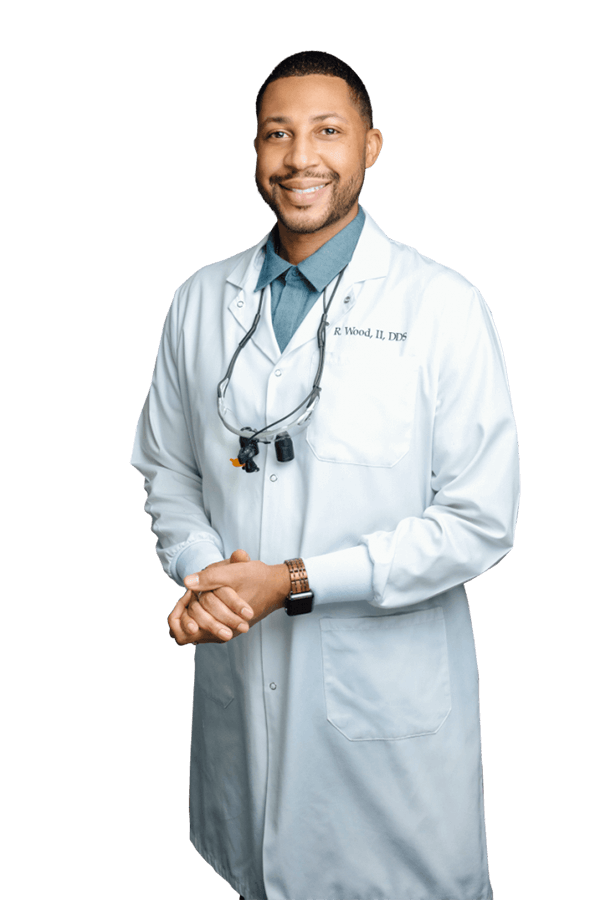 Robert D. Wood II, DDS
Third-generation dentist and Nashville native Dr. Robert D. Wood II leverages his professional experience to deliver superior dental care at his Columbus-based practice, 4th Street Dental Studio. An advocate for preventative medicine, Dr. Wood combines his patient-centric approach with his talent for transforming dental visits from daunting experiences into positive ones. Beyond his practice, he enjoys exploring Columbus, engaging in outdoor activities and is an active member of several dental associations and the Kappa Alpha Psi Fraternity, Inc.