If getting the smile you have always wanted would give you an extra boost of confidence, cosmetic dental treatments may be a good fit for you. Here is an overview of what this type of treatment is, things to ask yourself when considering cosmetic dental treatment, and how to choose the right cosmetic dentist for you!
What Is Cosmetic Dentistry? 
Cosmetic dentistry covers a wide range of voluntary procedures that enhance the appearance of your teeth and mouth. These procedures are focused primarily on aesthetics rather than the health of your teeth, although certain treatments can provide both benefits. 
Factors to Consider When Choosing a Cosmetic Dentist
Choosing the best cosmetic dentist is just as important as choosing the right cosmetic dental procedures. Here are some of the most important things to consider when evaluating potential cosmetic dentists!
Qualifications and credentials that show that they are capable of performing a particular procedure safely 

Plenty of experience in cosmetic dentistry in general, as well as expertise in performing the specific procedure you are considering

Use of cutting-edge technology and innovative techniques to create the best possible results

An extensive before and after gallery for the procedure you are considering that showcases the results you want

Reviews and testimonials from past patients that are happy with their experience

Top-notch communication and

dental service
What Questions Should Patients Be Asking?
Understanding every aspect of the procedure you are considering is an important step in making the best possible decision. Here are five of the most important questions to ask yourself and your potential cosmetic dentist before deciding whether a particular cosmetic procedure is a good fit for you. 
What are my treatment options?
Some cosmetic dental concerns may be able to be treated with more than one type of cosmetic procedure, which means it is important to make sure you and your dentist choose the best possible option for you. You should always ask if there are any other options instead of immediately agreeing to the first procedure your dentist recommends. Also, make sure you thoroughly understand the pros and cons of each of your options before committing to a particular cosmetic treatment. 
How long will the procedure take?
Some cosmetic treatments can be as simple as adding an extra hour or two to your regular visit, such as professional teeth whitening. In contrast, dental implants and many others are complex procedures that can take several months or longer. Making sure you understand the typical timeline of the procedure you are considering before getting started can help you avoid starting treatment too close to an important event, make sure your treatment stays on schedule, and avoid disappointment if it takes longer than you would like it to or originally expected. 
What are the risks and potential complications? 
Like any medical procedure, few cosmetic treatment options come with no potential risks to your oral or overall health. Understanding potential complications, being diligent about keeping your mouth clean following the procedure and choosing a highly qualified dentist with experience in the specific procedure you are considering can help you avoid most potential problems. 
How much will the procedure cost?
Cosmetic procedures are generally not covered by most insurance companies because they are not considered medically necessary, and many of these treatments can be expensive. Understanding the typical costs of the procedure you are considering and weighing them against the benefits can help you determine whether a treatment option is a good fit for you before moving further. Some procedures may have less expensive alternatives available, although they also may not be as efficient. 
Are there any financing options available?
Although you probably will not be able to use your insurance to cover a cosmetic dental procedure, paying the full cost upfront is not necessarily your only option. Many offices offer financing options that allow you to pay for your procedure over several months or years, depending on the complexity and total cost of your treatment. 
What Cosmetic Dentistry Services Are Offered at 4th Street Dental Studio? 
We offer a wide range of cosmetic treatment options for every mouth. Some of the different types of cosmetic dentistry services we offer include the following: 
Choose 4th Street Dental Studio for Quality Cosmetic Dental Care in Columbus, OH.
Cosmetic dentistry treatments can give you the best results for the appearance of your smile. At 4th Street Dental Studio, we want to give you the beautiful smile you deserve. Our cosmetic dentistry procedures are a great way to not only improve your oral health but give you peace of mind. Contact our dental office today and speak to one of our qualified cosmetic dentists or schedule your next appointment with us!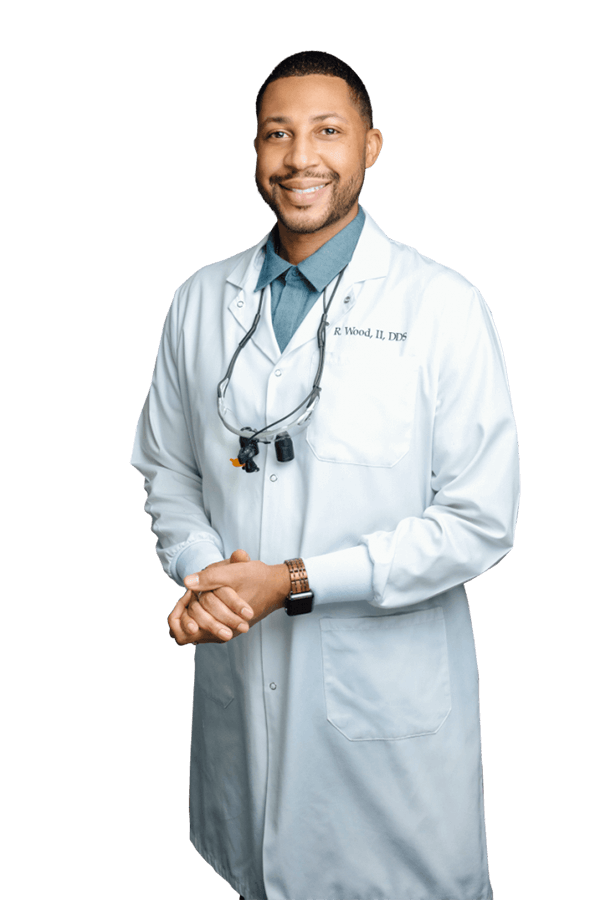 Robert D. Wood II, DDS
Third-generation dentist and Nashville native Dr. Robert D. Wood II leverages his professional experience to deliver superior dental care at his Columbus-based practice, 4th Street Dental Studio. An advocate for preventative medicine, Dr. Wood combines his patient-centric approach with his talent for transforming dental visits from daunting experiences into positive ones. Beyond his practice, he enjoys exploring Columbus, engaging in outdoor activities, and is an active member of several dental associations and the Kappa Alpha Psi Fraternity, Inc.