The way your smile looks is just as important as its overall health. A beautiful smile is the key to looking and feeling your best, after all. If you weren't born with perfect teeth, cosmetic dentistry could help you enhance the appearance of your smile, but what about after your procedure is complete? How you care for your teeth following a cosmetic dental procedure can play an important role in maintaining your results. Here's what you need to know about cosmetic dental procedure aftercare before scheduling a consultation with Dr. Wood at 4th Street Dental Studio in Columbus.
Understanding Your Cosmetic Dental Procedure
Whether your teeth are discolored, uneven, broken, or damaged, there's a cosmetic dental procedure for you. Some common cosmetic dental procedures include professional teeth whitening to brighten stained teeth, dental crowns to resolve damaged teeth, veneers to improve misshapen teeth, and clear aligners to correct uneven teeth. While most cosmetic dental treatments are safe, they have potential risks. It's important to discuss these potential risks before undergoing any dental treatment.
Preparing for Aftercare
Before achieving a more radiant smile, some steps will ensure your aftercare experience goes as smoothly as possible. First, talk with your dentist about what to expect when the procedure ends. Should you expect any side effects, such as pain, swelling, or bruising? If yes, what supplies will you need when you come home? It's best to obtain the necessary supplies, such as oral hygiene products, pain medication, cold compresses, etc., before your procedure so that your recovery goes as quickly and comfortably as possible.
Immediate Post-Procedure Care
Regardless of what cosmetic dental treatment you undergo, your post-procedure care immediately following your dental appointment matters. Here are some steps that are worth following:
Follow the instructions provided by your dentist

Manage pain and discomfort as needed with over-the-counter medications

Practice good oral hygiene practices, such as brushing, flossing, and using mouthwash

Deal with swelling or bruising by applying cold compresses

Avoid certain foods and beverages, such as things that are very hot, very cold, or hard
Managing Potential Side Effects
Serious side effects from cosmetic dental procedures are uncommon. While this is true, you may experience mild side effects. Here's what you should do if you develop side effects after a cosmetic dental procedure:
Tooth sensitivity: This commonly occurs after professional teeth whitening and other treatments. It will resolve on its own within a day or two.

Gum irritation: If clear aligners or the glue from dental crowns are irritating your gums, your dentist can provide gel to provide relief until you get used to your new dental appliance.

Discoloration or staining: Avoid drinking black coffee, soda, red wine, and other stain-causing beverages that could lead to discoloration after a whitening or veneer treatment.

Uneven or chipped dental work: Don't eat hard foods or bite down on things like ice to avoid damaging dental crowns and veneers.
Schedule Your Cosmetic Dental Treatment at 4th Street Dental Studio.
You shouldn't have to live with discolored, uneven, or misshapen teeth for the rest of your life. At 4th Street Dental Studio, we're proud to provide a variety of modern dental treatments to help you achieve the beautiful smile you've always wanted. Contact us today to schedule your free consultation with Dr. Wood and learn more about how professional teeth whitening, dental crowns, veneers, and clear aligners could improve the appearance of your smile. We can't wait to show you how simple improving a damaged smile can be with cosmetic dentistry.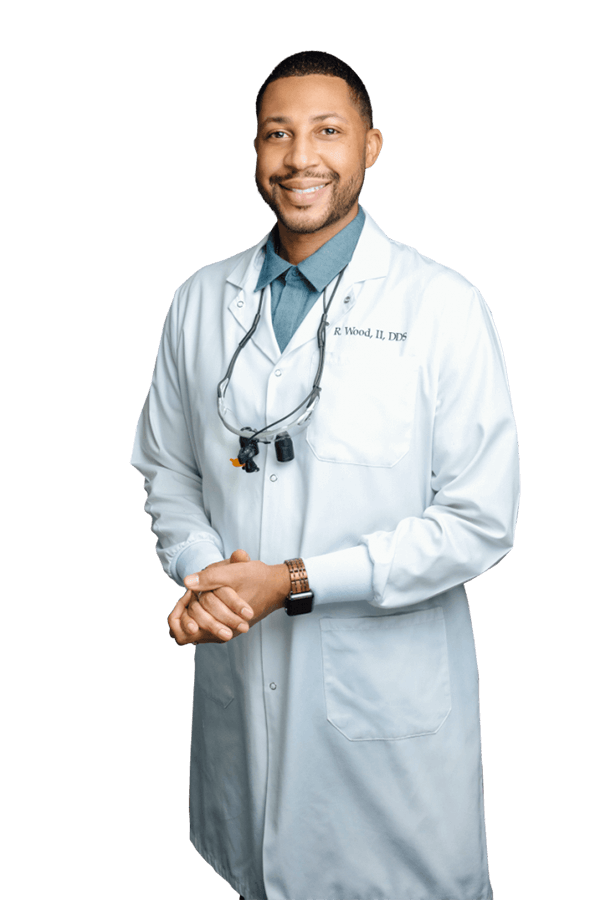 Robert D. Wood II, DDS
Third-generation dentist and Nashville native Dr. Robert D. Wood II leverages his professional experience to deliver superior dental care at his Columbus-based practice, 4th Street Dental Studio. An advocate for preventative medicine, Dr. Wood combines his patient-centric approach with his talent for transforming dental visits from daunting experiences into positive ones. Beyond his practice, he enjoys exploring Columbus, engaging in outdoor activities, and is an active member of several dental associations and the Kappa Alpha Psi Fraternity, Inc.