Life gets busy. You know you should schedule your next dentist appointment, but you keep pushing it off. After all, your teeth feel fine, so it doesn't hurt to wait a little longer. Right? Actually, there are plenty of good reasons for you to keep your next dentist appointment! From preventing cavities to saving money in the long run, the following reasons to visit 4th Street Dental Studio in Columbus, Ohio will hopefully encourage you to think twice before skipping your next checkup.
Prevention of Dental Problems
Professional dental cleanings and exams get your whole mouth cleaner than before. Our hygienists carefully remove all the plaque and tartar that build up on and around your teeth, preventing cavities, gum disease, tooth decay, and other serious dental problems, including protecting your overall health. Yes, regular dental checkups can do more than address your oral health issues. Gum disease (periodontitis) has been associated with an increased risk of heart disease. Regular cleanings and good oral hygiene can help prevent serious medical concerns.
Early Detection
Regular visits to your dentist let you get the advantage of catching dental issues in their early stages. Early diagnosis is the best way to prevent minor dental problems from ballooning into an issue that will require major dental treatment. Fixing a small cavity is easier and less expensive than fixing a large cavity. Dental problems don't go away on their own, so it's always better to detect them sooner rather than later.
Oral Cancer Screening
At 4th Street Dental Studio, we include a simple oral cancer screening as part of your dental checkup. This screening takes very little time and effectively checks for early signs of cancer. If there are signs of oral cancer, we will refer you to a doctor for further tests and treatment. Oral cancer is treatable, especially when detected early, however many of those signs are not detectable to the naked eye, so regular checkups from a qualified dental professional are important for early detection.
Save Your Teeth
Nobody wants their teeth to fall out. regular dental appointments are a great way to prevent the type of serious dental problems that can result in tooth loss. However, if you do have missing teeth, 4th Street Dental Studio has tooth replacement options, such as dental implants, bridges, or dentures, so you can regain the function and appearance of your teeth.
Start a Long-Term Relationship with Your Dentist
When you get to know your dentist and the dental staff at 4th Street Dental Studio, you will better understand how we care for your teeth. This leads to trust, which helps you feel safer and less anxious when it's time for a dentist appointment. Also, your dentist gets to know you and your unique dental history. We will be able to take better care of your teeth thanks to our past experience and knowledge.
Oral Care Education
Our staff gladly shares tips and personalized suggestions about taking better care of your teeth at home. We genuinely care about your dental health, and we will do everything we can to ensure you keep your teeth in good shape.
A Beautiful Smile
When you get your teeth professionally cared for on a regular basis, you can smile with confidence. We love seeing your smile here at our Columbus, Ohio dental office, and we love knowing that you can spread joy through bright, beautiful smiles everywhere you go!
Ready to Schedule Your Next Dentist Appointment?
Take great care of your teeth with regular dental visits. Most people should see the dentist once every six months for a professional cleaning and dental exam. At 4th Street Dental Studio offers comprehensive dental services in Columbus, Ohio for every dental need. Our friendly and highly-skilled staff will make you feel comfortable, easing any dental anxiety you may experience. Even if it has been years since your last dentist visit, we encourage you to schedule a checkup. Your teeth are very important to you, and we can help you take better care of them, so you don't have to deal with the pain of cavities or gum disease.
Contact us to schedule a dental appointment today by calling us at (614) 310-4373, or sending us a message. We look forward to helping you take care of your teeth.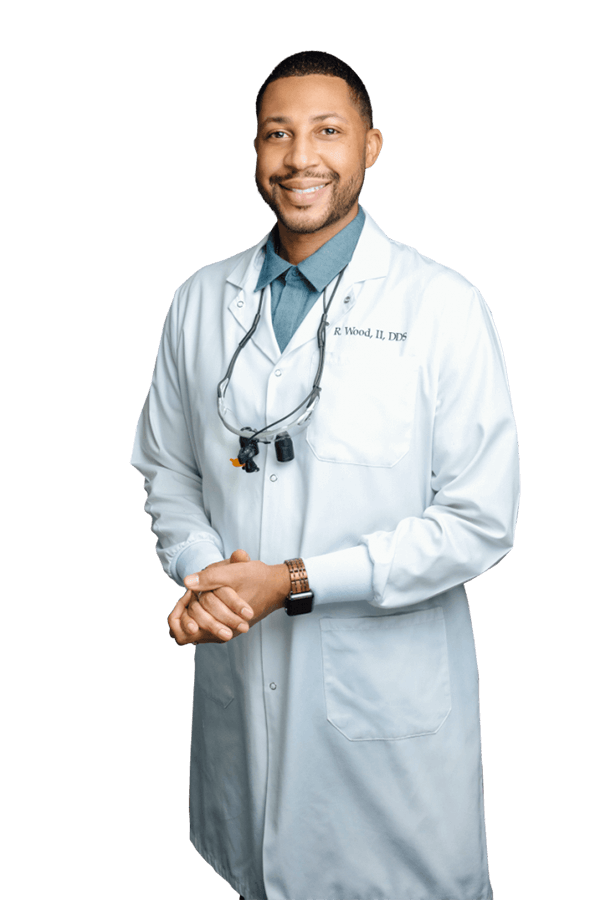 Robert D. Wood II, DDS
Third-generation dentist and Nashville native Dr. Robert D. Wood II leverages his professional experience to deliver superior dental care at his Columbus-based practice, 4th Street Dental Studio. An advocate for preventative medicine, Dr. Wood combines his patient-centric approach with his talent for transforming dental visits from daunting experiences into positive ones. Beyond his practice, he enjoys exploring Columbus, engaging in outdoor activities, and is an active member of several dental associations and the Kappa Alpha Psi Fraternity, Inc.