Want to improve the appearance of your smile? Discover the various cosmetic dentistry services available at 4th Street Dental Studio in Columbus, Ohio. 
What is Cosmetic Dentistry?
Cosmetic dentistry involves dental treatments that improve the way your teeth look. A more attractive smile can give you the boost of self-confidence you want.
Cosmetic Dentistry Procedures at 4th Street Dental
Teeth Whitening
Professionally whiten your stained teeth using one of our tried-and-true methods. We offer prefabricated take-home whitening trays, customized take-home trays, and in-office treatments to achieve the smile of your dreams. The take-home trays are designed for convenience, and the in-office treatment offers the fastest results for a whiter smile. This cosmetic dental treatment is not recommended for people who have very sensitive teeth. It doesn't work to remove all types of stains, just some tooth discoloration. Your dentist will help you decide if it's a good option for you. Professional teeth whitening is the most cost-effective treatment for improving the look of your teeth and the overall appearance of your smile.
Porcelain Veneers
Dental veneers are very thin shells that are bonded to the front of your teeth, hiding imperfections, small chips, or dark stains. They can give your smile a more consistent look, matching the shade of your natural teeth. Veneers are designed to be very strong, so they can last 10-15 years, or even longer if you take proper care of them. 
Clear Aligners
If you have crooked teeth or a bad alignment, such as an overbite, you can benefit from clear aligner trays. Unlike braces, these trays are removable, so you can eat and drink all the same foods you would normally eat. The dentist will give you a series of trays, which you use over a certain period of time for straighter teeth. The trays gently and safely move your teeth into the correct position. To achieve the best results, you do need to be diligent about wearing the clear aligner trays whenever you are not eating, drinking, or brushing your teeth.
Can I Get More Than One Cosmetic Treatment?
Yes, Dr. Wood can recommend a combination of cosmetic dental procedures to give your smile a complete smile makeover. Schedule a consultation to discuss your treatment plan options!
Benefits of Cosmetic Dentistry
When you like the appearance of your teeth, you're going to feel more confident and smile more. This extra confidence could improve your life in other areas, too, helping you achieve your goals. 
Come to 4th Street Dental Studio for Cosmetic Dentistry in Columbus, Ohio
Get a beautiful smile you love to show off! Book a dental visit for a cosmetic consultation, or give us a call for more information about our high-quality, proven cosmetic dentistry treatments.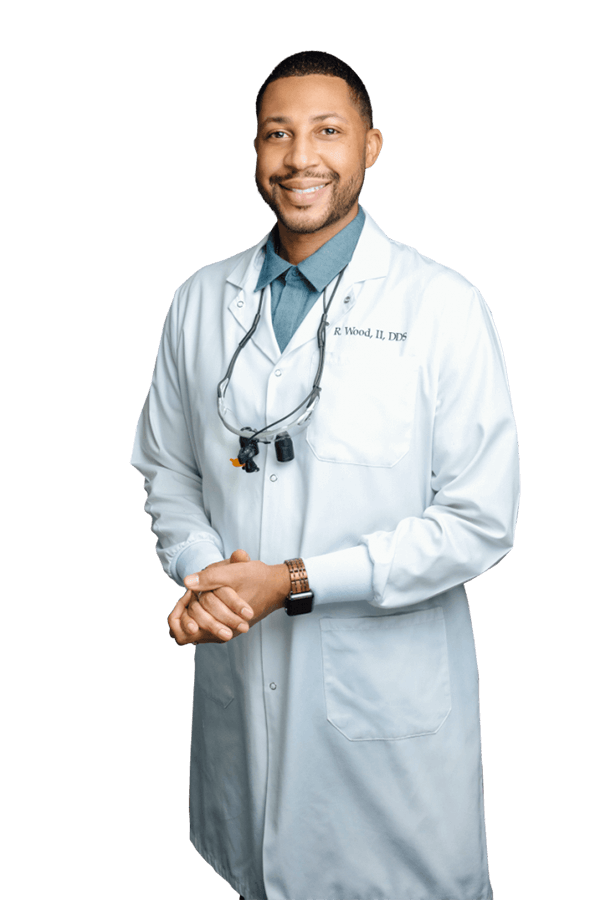 Robert D. Wood II, DDS
Third-generation dentist and Nashville native Dr. Robert D. Wood II leverages his professional experience to deliver superior dental care at his Columbus-based practice, 4th Street Dental Studio. An advocate for preventative medicine, Dr. Wood combines his patient-centric approach with his talent for transforming dental visits from daunting experiences into positive ones. Beyond his practice, he enjoys exploring Columbus, engaging in outdoor activities, and is an active member of several dental associations and the Kappa Alpha Psi Fraternity, Inc.